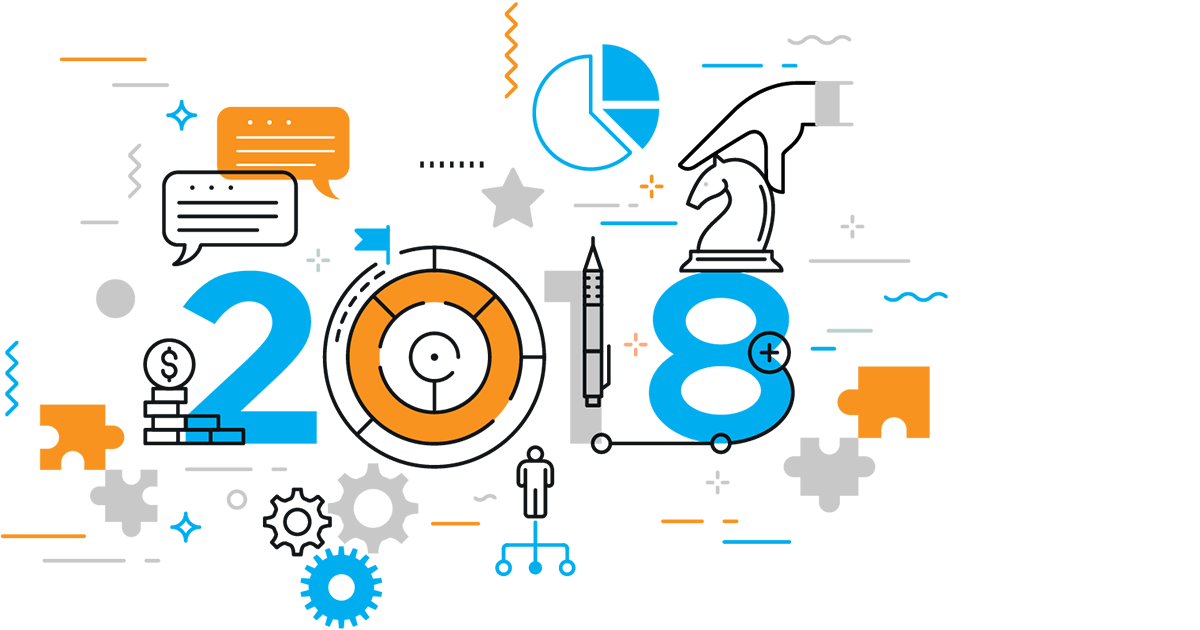 The clock has struck midnight on a brand new recruiting season. Are you ready?
Here at Bayard we are gearing up for another exciting year of helping employers recruit. But it is sure to be a year of changes and acceleration as new tools and tactics take hold in the industry. To that end, here are some of my predictions for what 2018 will bring.
HR Technology Acquisitions Will Accelerate
This year you will see a number of larger vendors gobbling up the newer technologies that complement their business. Case in point the recent news of iCIMS acquiring the young startup, TextRecruit.
ATS vendors like iCIMS are realizing that they need to add more channels to the mix to communicate with and engage candidates. This move is good news for other text related startups like Textio, Canvas and others helping you recruit
on mobile.
So don't be surprised to see the newer vendors in the market get acquired by their big brothers. Consolidation is coming.
Sourcing Becomes Fully Automated
I think this year will see the rise of automated sourcing whereby recruiters simply tell software systems what skills they need and the bots will deliver to them a set of candidates on a daily basis. Vendors like Entelo have already launched such features and though I think most are still 'rough around the edges', more tools
will emerge.
Talenya is one of those players. Their technology crawls the web and matches them with your job openings. Proprietary algorithms determine which candidates are more likely to be interested in a new job, so you can reach them first. They are calling themselves the "Uber of Recruitment", ain't that grand.
Soon recruiters everywhere will be served up candidates on a silver platter. It will just be up to you to figure out how to engage them. That's going to make the recruiters function more 'human' as a result. They say the recruiters of the future will be called 'Talent Advisors'.
Google Jobs and Facebook Jobs Will Become Go To Job Destinations
Last year both Facebook and Google released their job products. This year those two players will likely become a primary source of hire for many types of employers. Google Jobs results have already taken market share from big players such as Indeed and as their offering becomes even more refined, that trend will continue. Same for Facebook. Their job platform, which is being used by many SMB's is on its way to becoming the next Craigslist.
Recruitment Marketing Has a Breakout Year
Recruiting is marketing. So this year I think employers will be forced to face that fact. Because of the tight job market, they will have to spend more on recruitment advertising in order to attract an ever-shrinking pool of talent.
They'll also have to raise wages and stay on top of company reviews on sites like Glassdoor which have become part of the job search experience for most Americans. If your rating is below 3.2. (which is the average), you'd better start game planning.
Recruiting and HR Events Explode
To be honest this is already happening. I've lost count of the number of recruiting events now being created in the ecosystem (here's a good list). Every media outlet has multiple events and now even vendors are getting into the act.
Both HiringSolved and Greenhouse will be holding their own events in NYC
this year.
The ATS Morphs into a CRM
In case you haven't noticed, the newer applicant tracking systems on the market are also morphing into CRM's. Going back to my 'recruiting is marketing' comment, being able to curate and engage your candidates is where recruiting is heading.
Vendors like Lever let you "nurture" your talent by creating personalized email campaigns that can scale. Treating a candidate like a sales lead is how you will close more of them in 2018 and beyond.
About Louis
I am a passionate executive who starts and ends every day with a quest for perfection. I won't ask another employee to do a job that I will not do. My philosophy is to hire the brightest light bulbs that I can possibly find, as I know that having the brightest and the best around me will assure our mutual success.
About Bayard
At Bayard, it is our goal to provide our clients the ultimate in client service, technology, and creative vision. I can assure you that our core values have enabled us to build strong relationships with our clients. This has been the key to our success for the past 90 years and is an inspiration for our future growth.