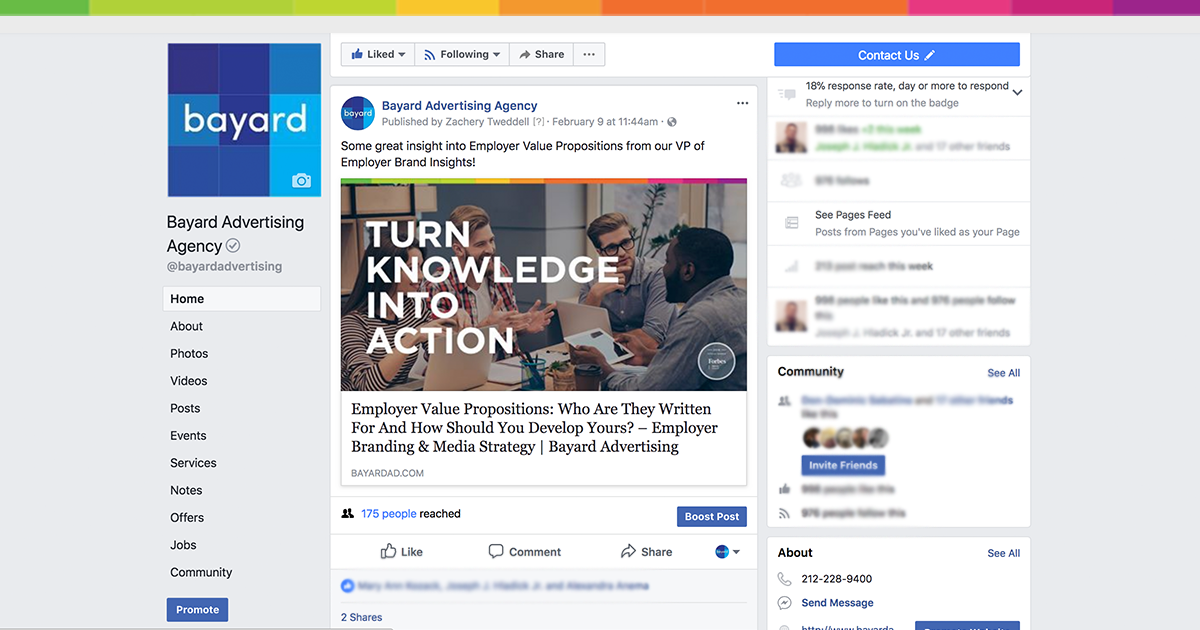 Changes are coming. Here's what you can do about it.

A few weeks ago social media became abuzz with the news that Facebook will soon be tweaking its algorithm to favor more friend and family stories over publishers with business pages. If your company has a business page for either corporate or careers this new change will greatly affect who sees your content.

According to the announcement on the Facebook blog;
"Because space in News Feed is limited, showing more posts from friends and family and updates that spark conversation means we'll show less public content, including videos and other posts from publishers or businesses. As we make these updates, Pages may see their reach, video watch time and referral traffic decrease. The impact will vary from Page to Page, driven by factors including the type of content they produce and how people interact with it."

Facebook is making this change in order to keep its news feed as engaging as possible to the people that use it. That, however, is bad news for businesses. Friend to friend content will be prioritized.

But there are things you can do to ensure your content is optimized for the new algorithm. The blog post contains a few clues.

Adjust Your Preferences
First, users will be able to prioritize your page if they choose See First in News Feed Preferences. (click the … next to News Feed in your menu). You may want to tell your page followers how to do this so they see your posts more often. Help them, help your content.

Get Your Employees Involved
Since the news feed will prioritize friend-to-friend content get more of your employees involved in sharing, liking and commenting on your posts. This will help boost your engagement of each post and should result in higher visibility.

Spend More on Ads
Boosting your posts, especially ones that already have a high engagement score are a great way to keep that piece of content relevant in their algorithm. Consider devoting more of your job ad budget to get more Facebook reach.

Try Groups
There are lots of local job search groups on Facebook to participate in. By sharing some of your job or other career content you can get free traffic. It is not uncommon for people to tag their friends on a group job listing to alert them of a new opportunity. To find them search for phrases like 'chicago job or chicago employment' from the group tab.

Embrace Video
Live streaming along with the native video upload on Facebook will greatly help your reach on the platform. Facebook wants more video content, so give it to them. Video is the best performing type of content on the platform.

Social media sites are always evolving so expect that whatever channels you use, you will have to adjust as needed.

For help making or keeping your content relevant on social media, reach out. We love this stuff!